By Mary Hull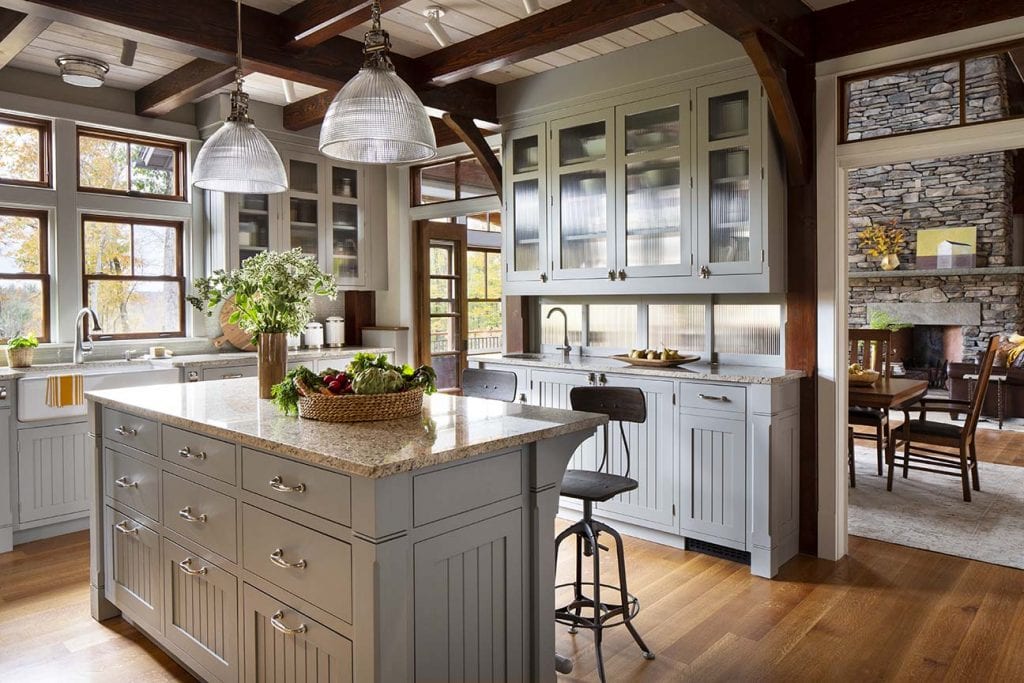 We custom mill all kinds of hardwood and pine wide plank floors to fit your look and unique style -whether the place you call home is a vintage farmhouse, a brand new home, or an urban apartment, we can make you the perfect floor. Use this style guide to inspire ideas for your next project.
Rustic
Wood with rustic character works well for a variety of spaces – it is a natural fit for log and timber homes, and it's also great in modern interiors where it serves as the perfect foil for white spaces and sleek surfaces like glass, metal, and tile.
Wood floors are an essential design element, comprising the largest visible surface area in your home. Think of them as functional art.
Wide and long plank floors create a clean visual line because there are fewer visible seams on the floor. In contrast, shorter and narrower planks create a patchwork effect.
Wood with natural character adds a warm, organic element to any interior.
Our best selling rustic wood floors are in the natural character grades of live sawn white oak, ash, hickory, maple, and birch. Some people may think of character marks as imperfections, but we think they make the most interesting and beautiful wood floors.
Modern to Contemporary
From mid-century modern to the present day and future, if your interior is informed by modernism, we have some ideas for wood floors that will complement your style.
Planks of equal width lend a modern air compared to random width planks, which are associated with early homes and traditional milling techniques.
Long planks enhance flow in open floor plans, particularly when the same species and color is used throughout.
The angular lines of rift sawn white oak make it a popular choice for modern interiors. We also see our wide plain sawn white oak, red oak, ash, and maple going into modern and contemporary spaces.
Traditional
Have a vintage home? We can make floors to mimic historic milling techniques, and our random width /random length wide plank floors evoke an earlier time.
It doesn't get any more traditional than old fashioned solid wood plank flooring.
Long and wide planks & random widths are associated with historic homes. In the old days, when all logs were sawn locally, people used the entire resource as it came off the log, and they would not have had floors that were all one width, or even all one grade. Rather, they had boards in a mix of grades.
We see a lot of our random width flooring, especially live sawn white oak, select red oak, and eastern white pine, going into antique, reproduction, and farmhouse style homes. Because these floors are each a mix of several grades and available in a wide range of widths, they are a good fit for a vintage look.
Classic to Transitional
Classic tried and true hardwood flooring enhances your home's resale value, works with a wide variety of decorating styles, and will look just as timeless in the future as it does today. The transitional style is a classic look that appeals to those seeking middle ground – it is less formal than traditional style and less austere than contemporary style. Transitional style takes elements from the past and the present and mixes them together for a clean aesthetic that prioritizes comfort.
Red oak is a classic choice, available in select, premium, and natural grades with plank widths from 3-14 inches and very long plank lengths of 4-10 feet with an average plank length of 7+ feet. Red oak takes stain easily, allowing for a wide range of finish tones, and is less expensive than white oak. Red Oak is also rapidly renewable, making it one of the most environmentally conscious woods you can choose.
White oak is another classic choice, available plain sawn, live sawn, or quarter/rift sawn.
We see a lot of our select and premium grades of red oak, white oak , ash, and maple going into transitional style homes. When the design leans toward a farmhouse vibe, live sawn white oak is also a popular choice.
Browse more of our flooring photos to get inspired. Ready for your customized quote? Click below or call us at 1-800-928-9602 .