EMPLOYMENT
Hull Forest Products is always looking for high achieving, self-motivated individuals. We are constantly evaluating expansion opportunities and would welcome your resume for future consideration.
You may send your resume by mail to our headquarters at 101 Hampton Road, Pomfret Center, CT 06259, or you can submit an application online.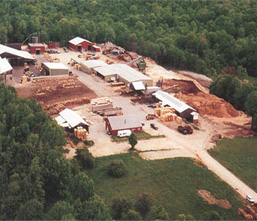 Job Openings as of August 2022:
Sawmill Cleaning Help
Sanitation Worker Needed to Clear Woody Debris
We are looking for an energetic person to clean up sawdust, bark, and wood debris from inside and around our facility. Must be able to lift 40-50 pounds. This is a great job for someone who enjoys getting physical exercise while at work. Approximately 30 hours per week – hours are flexible. Call (860) 974-0127, upload your resume using the button above, or email info@hullforest.com
Lumber Stackers
Are you looking to get in better physical shape? Come join us! No experience necessary – we will train you. Lumber stackers manage and organize lumber inventory coming out of the sawmill. This is a great job for anyone who enjoys working in a fast-paced environment, walking and moving around throughout the day. First shift, 40-45 hours per week with overtime, potential for production bonus, paid sick/vacation time, and discounted wood products. Email info@hullforest.com, fill out our online application using the button at the top of this page, or call (860) 974-0127.
Lumber Graders
Lumber Inspector/Quality Control Position Available
The Hull Forest Products team seeks an energetic lumber inspector/grader who would enjoy working at our Pomfret, CT sawmill to make sure our product quality is consistent with NHLA rules. Mathematical proficiency and previous hardwood lumber grading experience highly preferred; however, we are will train the right candidate (6-12 month training) for this 40-45 hr/week full-time day position. We offer hourly pay with overtime, health ins., sick/vacation time, 401K, discounted wood products, and a fun work environment with room for growth.
(860) 974-0127 or email resume to info@hullforest.com
Full Time Foresters
Education Level Required: Bachelors or Associates degree
Work Experience Required: 3+ years experience preferred
Travel Expectations: Frequent travel throughout the service area required. Company vehicle provided.
Position: Forester
Applications accepted until suitable candidate is selected.
Location: Office located in Pomfret, CT. Service area includes Connecticut and Massachusetts.
If you enjoy spending time outdoors in a work environment that combines technology, communication, and teamwork to help manage and protect client woodlands and provide a sustainable supply of timber for a sawmill creating renewable wood products for worldwide distribution, then come work for Hull Forest Products, where you will have a chance to make an impact on the environment while educating the public on the value of working forests.
Hull Forest Products is a family business operating in southern New England for over 50 years. We are looking for a forester to join our team and help our vertically integrated manufacturing business and woodland management division to thrive.
What you'll do:
Establish or maintain relationships with forest landowners; successfully contribute to all aspects of forest management planning for your clients; educate current and prospective clients on the benefits of forest management and long-term planning.
Procure hardwood saw timber for our sawmill.
Ensure clear and regular communication with your clients; coordinate with timber harvesting crews and your supervisor to create customized solutions and achieve common goals.
Collect data and document your work using hand-held computers.
Perform public outreach by leading forestry walks each year and attending various public events.
What you'll need:
Ability to work and hike in rugged terrain and inclement weather
Ability to read and follow GIS data and maps; ability to work independently.
Excellent communication and interpersonal skills.
Availability and desire to travel throughout the service area.
Four year degree in Forestry.
Ability to identify local tree species, apply forestry concepts and prescriptions to enhance forest potential and achieve landowner goals.
Organizational skills; working knowledge of computers and programs, file creation, manipulation and sharing.
What you'll get:
Career opportunities in Forestry
A company repeatedly recognized as a top performer in the industry.
The opportunity to work in the great outdoors.
A company vehicle for commuting purposes & cell phone.
Competitive wages & benefits including health insurance/401K, vacation/sick time, and discounted wood products. Pay rate based on qualifications & experience.
If a career in forestry with Hull Forest Products excites you, please apply by emailing your resume to: info@hullforest.com Phone: (800) 353-3331. Address: 101 Hampton Road, Pomfret Center, CT 06259 USA.
Working at Hull Forest Products
Hull Forest Products is an Equal Opportunity Employer that has been growing beauty and value in client forests since 1965. With over 50 years of woodland management experience, Hull Forest Products is uniquely positioned to meet the financial, environmental, and recreational goals of forestland owners. We are proud to show clients our work on over 60,000 acres of New England forestland. By providing markets for local wood and periodic income to landowners, we help families keep their forests as forests while growing their investment. We have multiple generations of satisfied clients and we will be here for the next generation of ownership as well. We are committed to manufacturing forest products of the highest quality for the local, national, and global marketplace.
We are always seeking candidates who have positive attitudes, excellent communication skills, and critical attention to detail. Military veterans are also encouraged to apply. Founded in 1965, Hull Forest Products now has more than 80 employees working in the fields of forestry and timber procurement & agricultural manufacturing. For more information, visit www.hullforest.com. If you need any assistance at any time please contact us at 1-800-353-3331 or info@hullforest.com
Hull Forest Products provides equal employment opportunities (EEO) to all employees and applicants for employment without regard to race, color, religion, gender, sexual orientation, gender identity or expression, national origin, age, disability, genetic information, marital status, amnesty, or status as a covered veteran in accordance with applicable federal, state and local laws.