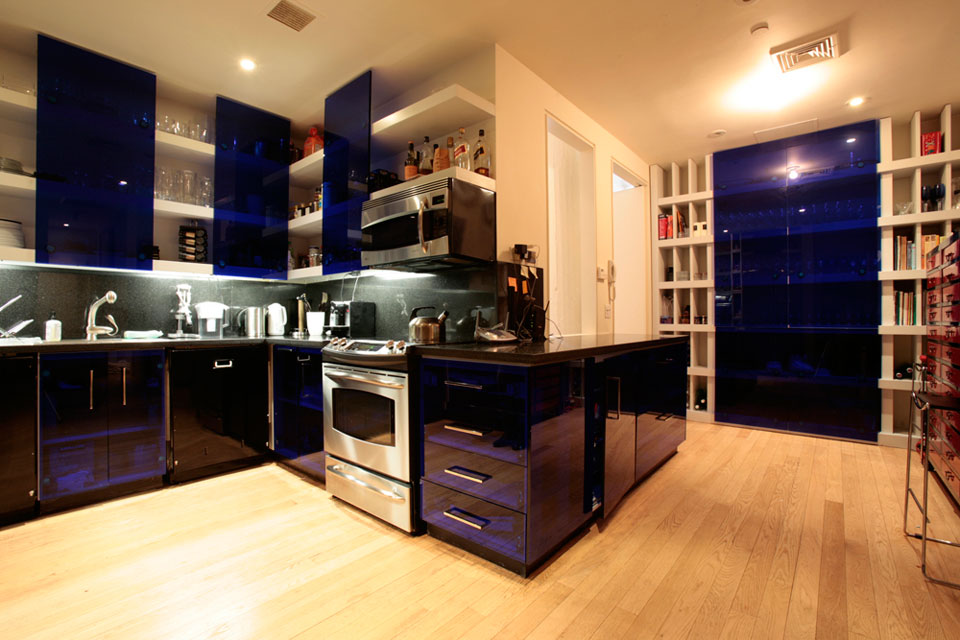 Thinking about installing a wide plank wood floor in your kitchen? You're not alone. Adding wood flooring is one of the most popular kitchen upgrades. And homeowners adding wood flooring are likely to see a return on their investment. According to the National Association of Realtors, homes with real wood floors are easier to sell, sell faster, and sell for more money than homes without them.
Wood Floors Establish A Tone
Wood adds warmth and interest to a kitchen like no other floor covering can. Because floors are generally the largest visible canvas in your kitchen, they set the backdrop for your furnishings and the tone for the space. Wood floors connote quality and craftsmanship, and wide plank floors can be used to convey a sense of luxury or history. (Retailers know that customers associate wood floors with quality, so they will often upgrade stores by installing wood flooring in key areas.) Installing wood flooring in your kitchen immediately raises its profile.
Since durability is especially important in high-traffic areas like kitchens, we recommend the use of harder woods such as red oak, white oak, hard maple, hickory, and ash wherever wear is a concern. But some folks find wear charming and they want a wood floor that will develop a patina more quickly. It really depends on your tolerance for dings, dents, and wear. In an old house you may want to choose a floor that looks like it belongs there, such as the wide pine kitchen floor shown in Figure 2.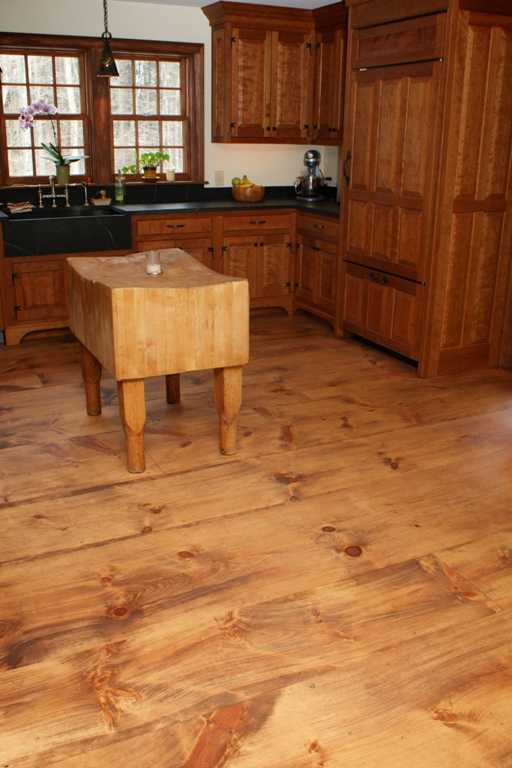 Try to pick a wide plank wood floor that will make your kitchen look its best. Love an all-white kitchen but don't want it to look sterile? Use a warm toned wood floor to inject color and life into an all-white kitchen.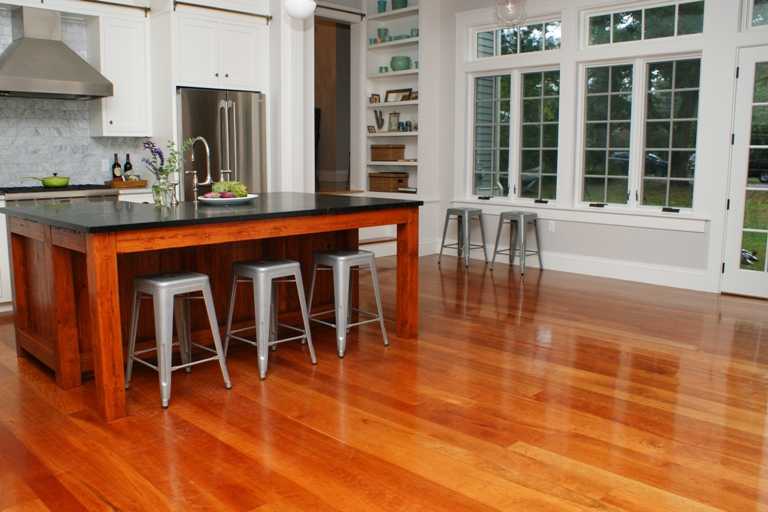 Choosing a contrasting tone floor is one way to go, as shown in figures 1 and 3. On the other hand, if you love the wood tone of your kitchen cabinetry and want to build on that color, consider choosing a similar wood tone for your floor.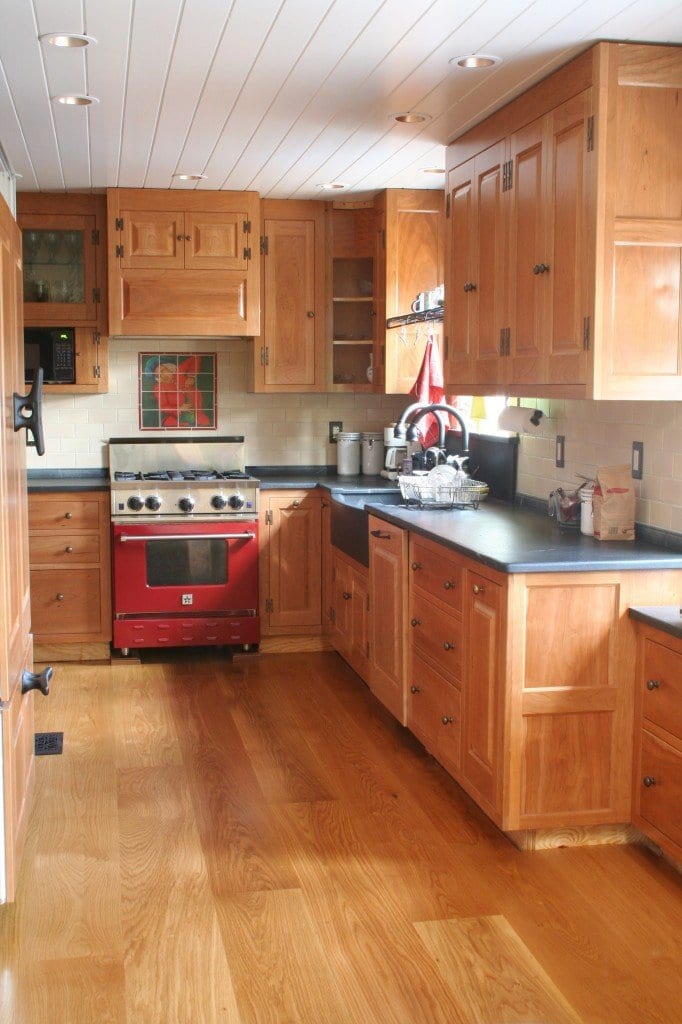 You can also add interest and character to your kitchen with rustic or figured wide plank wood floors. The owners of the New England kitchen shown in Figure 5 chose natural grade Ash wood flooring for its durability as well as for its character markings and color variation–then they stained the floor to emphasize the open grain and achieve a darker tone that suited their tastes. The result was a kitchen wood floor with character that has proved to be one of our most popular wood floors.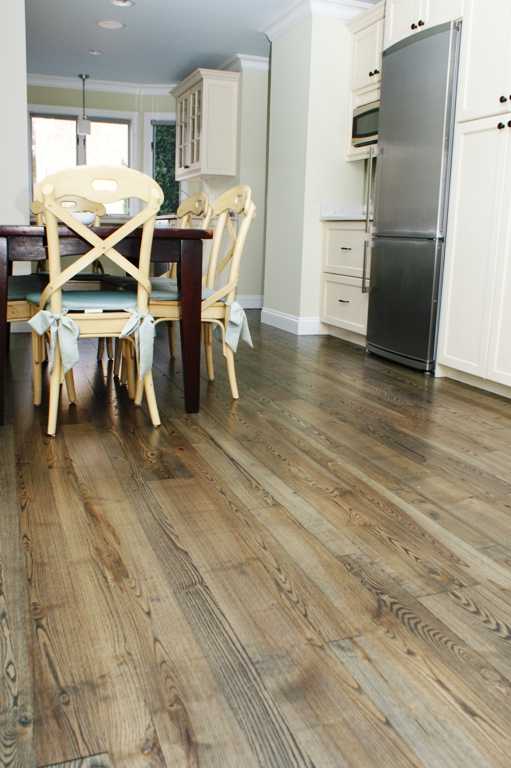 Looking to contrast darker cabinetry and finishes with a lighter colored wood floor? Check out the pale White Oak kitchen floor shown in Figure 6. The homeowners chose a lighter tone floor to contrast with their cabinetry and trim and went with all five inch planks rather than random widths in order to emphasize the contemporary design of their home.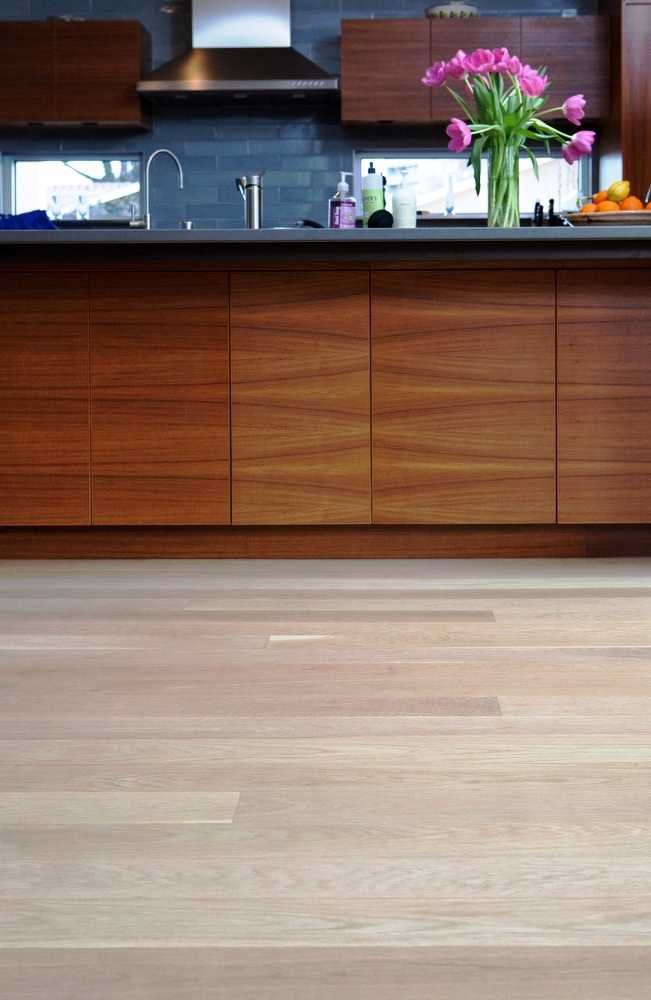 In case you need more reasons to choose a wide plank wood floor for your kitchen, don't forget that wood floors have an exceptionally long service life, which makes them an attractive investment. Solid wood floors have a service life of 100+ years, and they can be sanded and refinished many times as homeowner tastes change. And that's just one advantage.
Environmental Advantages of Wood Floors
Wood is a renewable and eco-friendly building and finish material. Solid wood floors require less energy to produce than any other type of floor covering, and they hold up to the scrutiny of life cycle analysis. Choosing responsibly sourced wood floors helps conserve working forests, which provide ecological benefits in the form of enhanced air and water quality, wildlife habitat, and carbon sequestration. Learn more about what makes wood good.
Need more inspiration for your kitchen floor? Check out our wood flooring galleries, our pinterest board on kitchen wood floors and our houzz profile.
Contact us by email or phone 1-800-928-9602 or visit the wide plank flooring showroom at our sawmill in Connecticut.