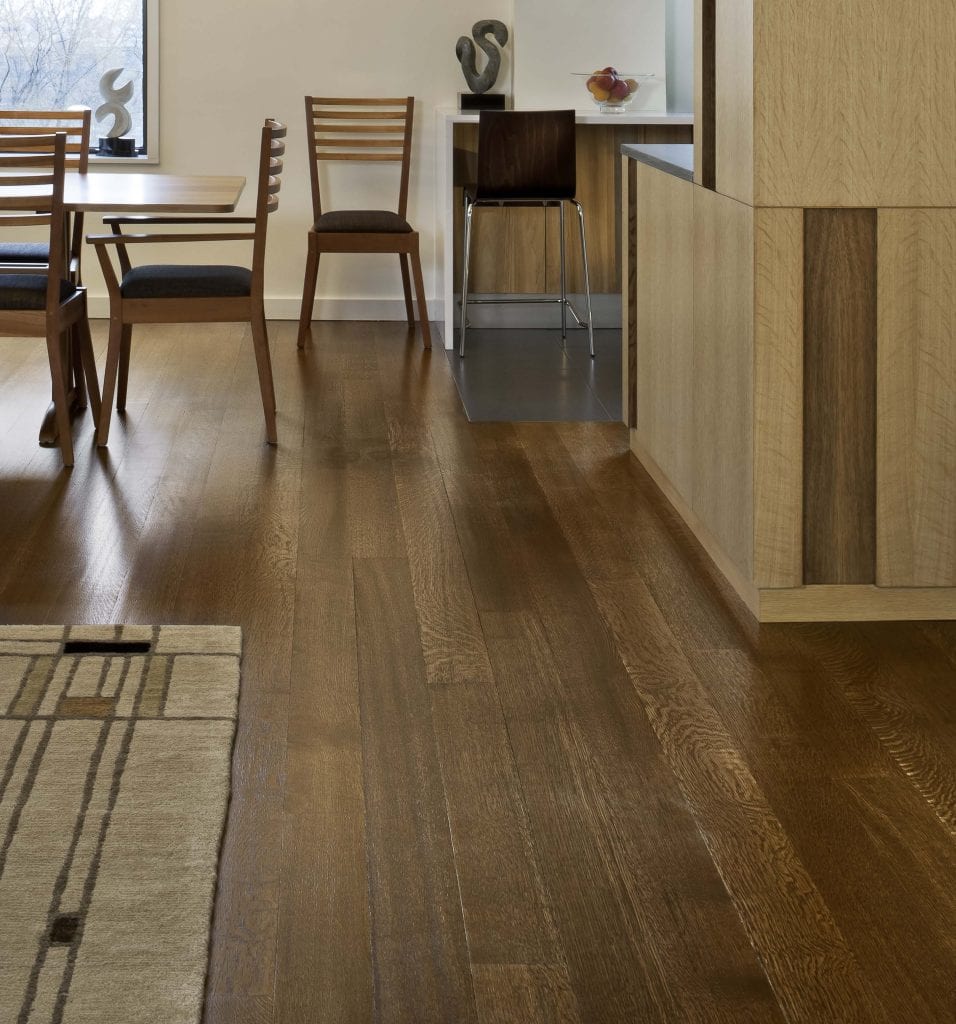 White Oak. Quercus Alba.
Considering a White Oak wide plank floor? You're not alone. White Oak is one of the most popular species of wood flooring in the United States, though not as popular as its cousin, Red Oak. Renowned for its impact resistance and beauty, white oak flooring makes an eye pleasing and practical addition to your home and is available in a wide range of cuts, grades, and styles.
As a saw mill, we find that floors can sometimes be hard to describe to the lay person – but if you look at enough pictures you will quickly notice what you like and don't like. The point of this post is to illustrate the different varieties of White Oak so you can make an informed decision when choosing a White Oak floor.
For reasons both practical and aesthetic, White Oak is among our top selling wide plank floors here at Hull Forest Products. White Oak floors hold up well to foot traffic and are durable enough to be used in the highest traffic areas, including your kitchen. Scoring a whopping 1360 on the Janka hardness scale, White Oak is among the toughest of the North American hardwoods.
White Oak is also extremely versatile – the wood takes stain very well and can be left natural, stained dark (Figure 1, above), or whitened to a pickled or bleached appearance.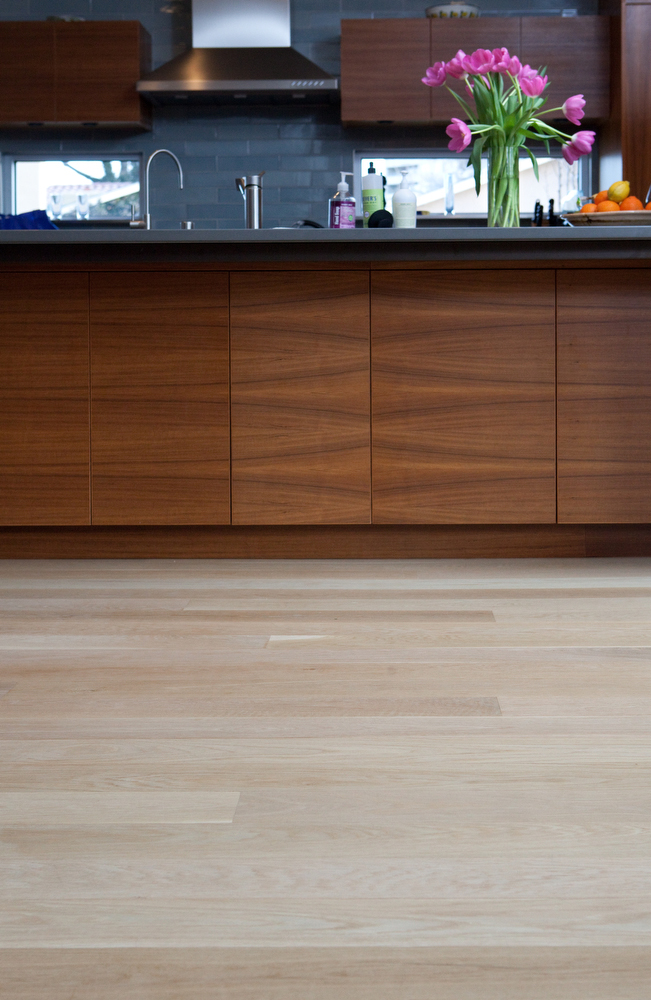 The appearance of a White Oak wide plank floor also depends on the method by which the log was sawn. Common styles are: plain sawn (see figure 3 below), quarter sawn, rift sawn, and live sawn. Let's start with plainsawn oak first, since that style is the most common. Figure 3 below shows the traditional cathedral grain pattern of plain sawn White Oak, which most of you will recognize: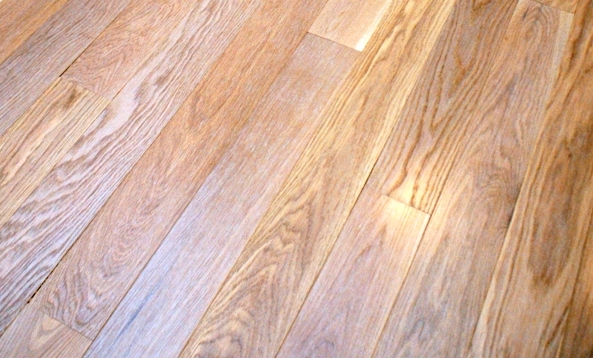 Notice how the grain in Figure 3 rises into peaks – those are what we call the "cathedrals." This is how 90 percent of the oak floors out there today are sawn, and this method of sawing is the most efficient.
In contrast, when a log is quarter and rift sawn, the radial and vertical grain are exposed on the face of the planks, and the floor has both undulating and straight grain like the floor shown in Figure 4 below: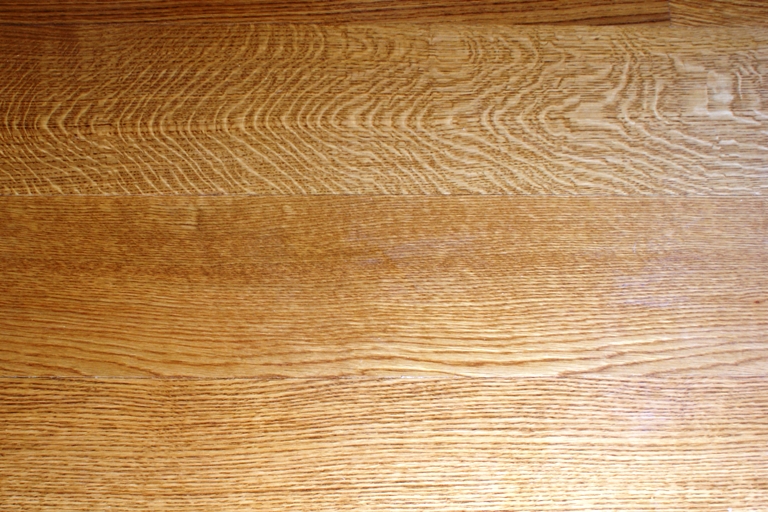 As you can see by comparing the White Oak floors shown in Figures 3 and 4, the grain of plainsawn White Oak and the grain of quarter/rift sawn White Oak look completely different.
Quarter and rift sawn White Oak was popularized by the Arts & Craft movement and remains a hallmark of Mission style. Quarter and rift sawn wood is also exceptionally stable, which makes it popular for use over radiant heating. When the planks are further sorted to contain only rift sawn grain, you get a floor with consistently straight grain like that shown in Figure 5 below: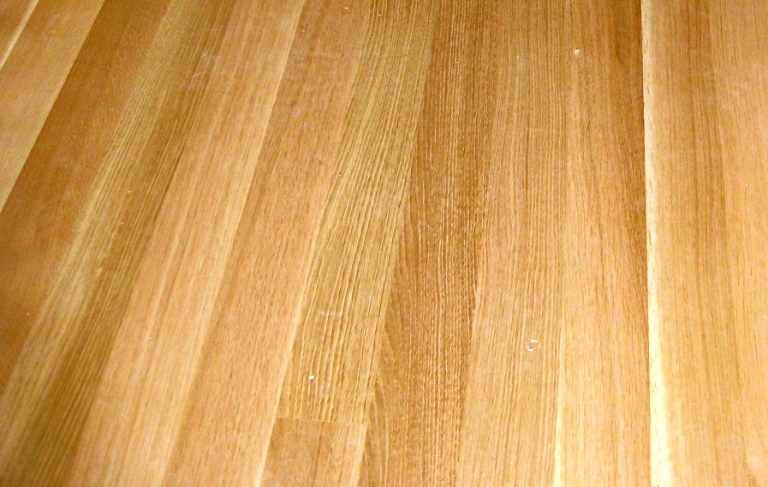 Live sawn oak is another style that comes from a different type of saw cut, one that slices from the outside diameter all the way through the log. It results in a floor with all three types of grain: plain, quarter, and rift.
Now let's talk about grades of White Oak. The photos shown above all feature select grade White Oak, which is a clear grade with few to no knots or character markings.
White Oak is also available in other grades with varying degrees of character markings. Your choice of grade will have an impact on the overall look and feel of your floor. I'm making a generalization here, but IMO select grade floors tend to look more formal and modern, while character grade floors read as rustic and cozy, perfect for a mountain retreat or log cabin.
That being said, I must admit that with a little creativity, you can create a signature look within any grade. For example, if you take that same natural grade knotty White Oak floor shown above and give it a dark burnished stain (like the folks at the Frye Boot flagship in Manhattan did with our character grade White Oak – See Figure 7 below), you get a decidedly more urbane vibe.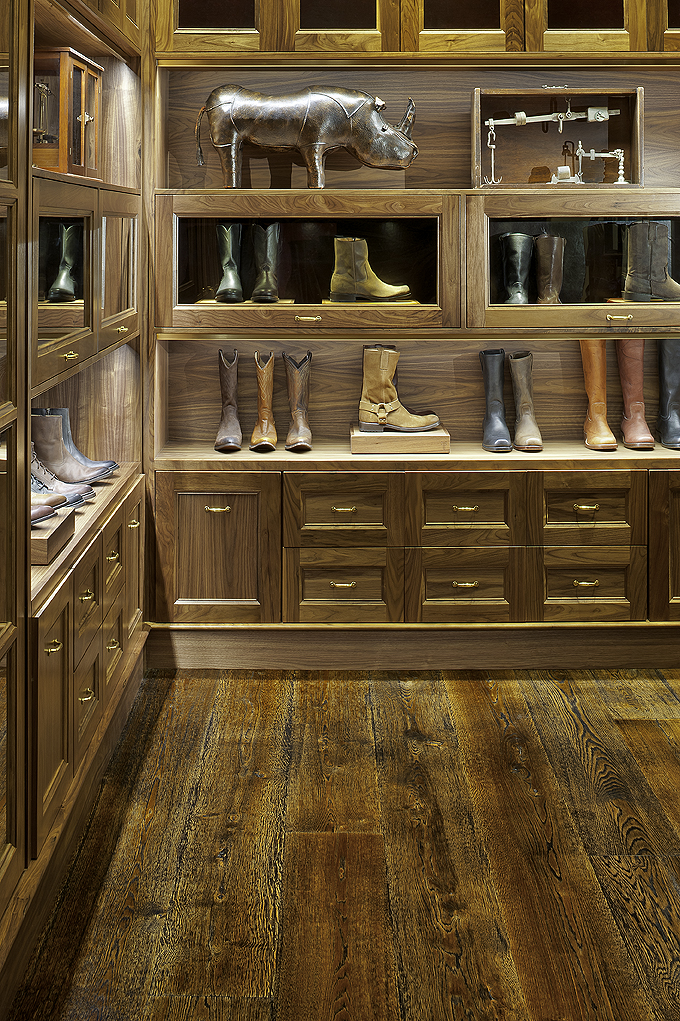 Hopefully you've found these pictures and descriptions helpful in determining what kind of White Oak wide plank floor best suits your style. To check out other species of wide plank floors, price wide plank floors, or order wood samples, you can visit our sawmill's web site at www.hullforest.com.