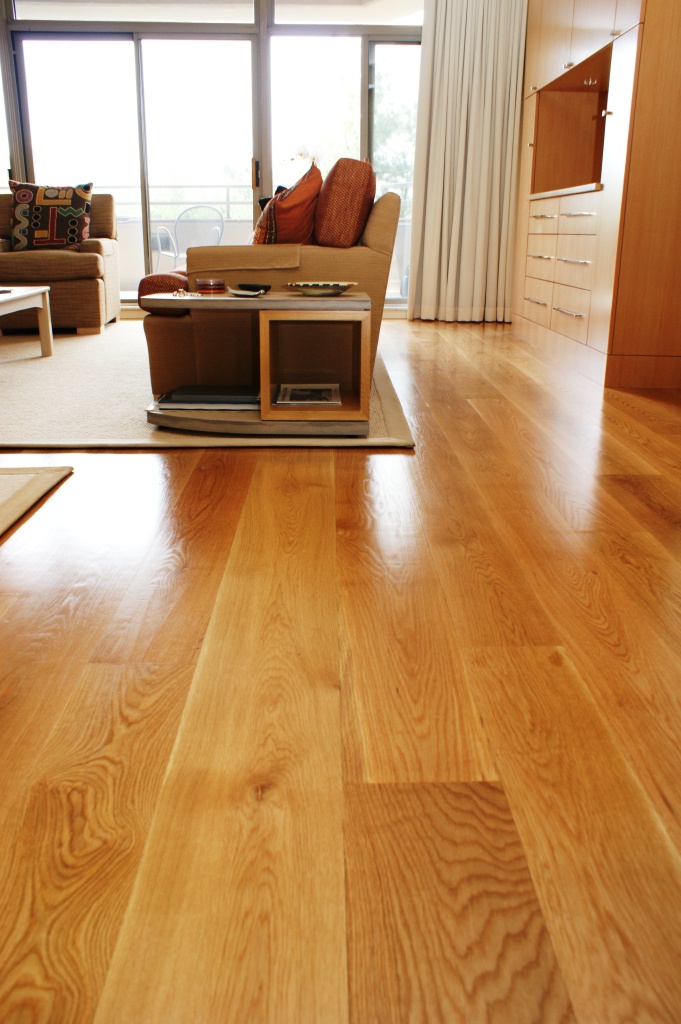 Not sure what kind of wide plank wood floor you want? Flooring manufacturer Hull Forest Products recommends you ask yourself four questions to help determine your style when choosing wide plank flooring:
1. Do you prefer a clear floor or one with some knots or other natural markings?
Clear floors, like the White Oak floor shown above in Figure 1, present a more uniform appearance. While all planks exhibit a natural beauty unique to the tree from which they came (there really are no two alike), there is a more obvious grain and color variation between the planks of floors exhibiting light to heavy character markings. (See Figure 2 below)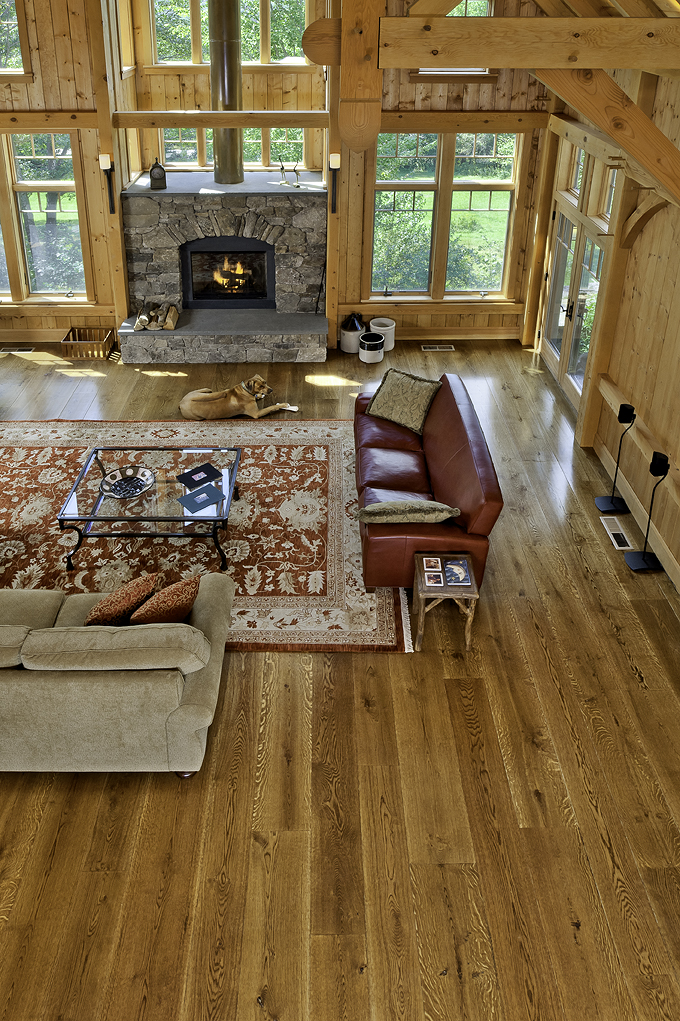 In Figure 2 we have a natural grade of live sawn White Oak with some knots and other character markings that create a homey, less formal, atmosphere.
2. What kind of statement do you want your floor to make (or not make)?
If you want a floor that draws a lot of visual attention, you may like something with strong contrast between heartwood and sapwood, such as Hickory. Or you might prefer a floor that showcases the rustic beauty of character knots, bird peck, and other variations as unique as each individual tree.
If you want your floor to blend into its surroundings a bit more, you may prefer a traditional choice, such as Red Oak or White Oak. Trends come and go, but Oak is a classic. Eye pleasing but not attention-grabbing, Oak accounts for approximately 2/3 of all new floor installations in the United States. We offer flawless Oak floors that showcase clear grain beautifully and we offer character grade Oak floors with varying degrees of rusticity.
3. If you are not sticking with the natural wood color but are planning to stain your floor, are you going for a color that is light, medium, or dark?
Many of our clients choose to keep the natural color of the wood. Others want a bleached floor, or a very dark one. In general, lighter floors lend an open and airy feeling and can make a room seem larger, while darker floors tend to have a vintage, more formal look. Of course you can stain your floor any color you like, but it helps to start with a wood that is close to the color you are trying to achieve. In addition, some woods, such as Oak and Pine, absorb stain more readily than others and can be stained equally well light or dark.
4. Where will the floor go in your home, and what is your tolerance for dings and dents?
All wood floors develop wear marks over time. This is part of the charm of wood, an organic material. Some people actually prefer softer woods because they develop this patina more quickly. For example, our wide pine is very popular among farmhouse and period homeowners because it quickly gives an "aged" feel (See Figure 3 below). Others do not find wear charming, and they tend to choose harder woods such as Maple, Ash, Red Oak, White Oak, and Hickory.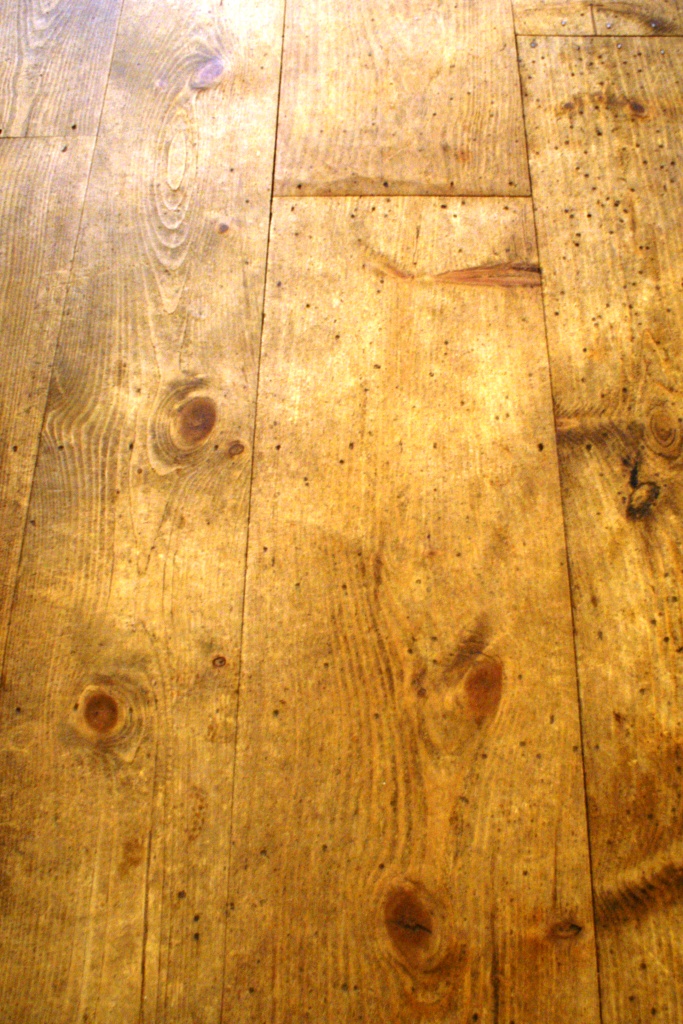 Where you plan to place the floor in your home may make all the difference in your wood selection. Depending on your tolerance, a harder wood may be a better choice for a high-traffic area, while a lower-traffic area such as a bedroom may be the best place for a softer wood.
Your choice of finish will also affect the condition of your floor, with a poly finish providing more protection than an oil finish or no finish.
Placing area rugs over your wood floor in high-traffic areas will also help reduce wear.
The beauty of solid wood floors is that they can be sanded and refinished many times and still have a lifetime of wear left in them.
See Figure 4 for an example of a hardwood floor that is subjected to heavy public foot traffic but still looks great.
Figure 4 below shows the floor of the Frye Boot flagship store on Spring Street in lower Manhattan. We made this floor for them out of ten inch wide natural grade White Oak planks, and they chose to stain it a very dark color. The floor we made for Frye Boot looks fantastic and it gets walked on every day by all kinds of shoes–including high heels.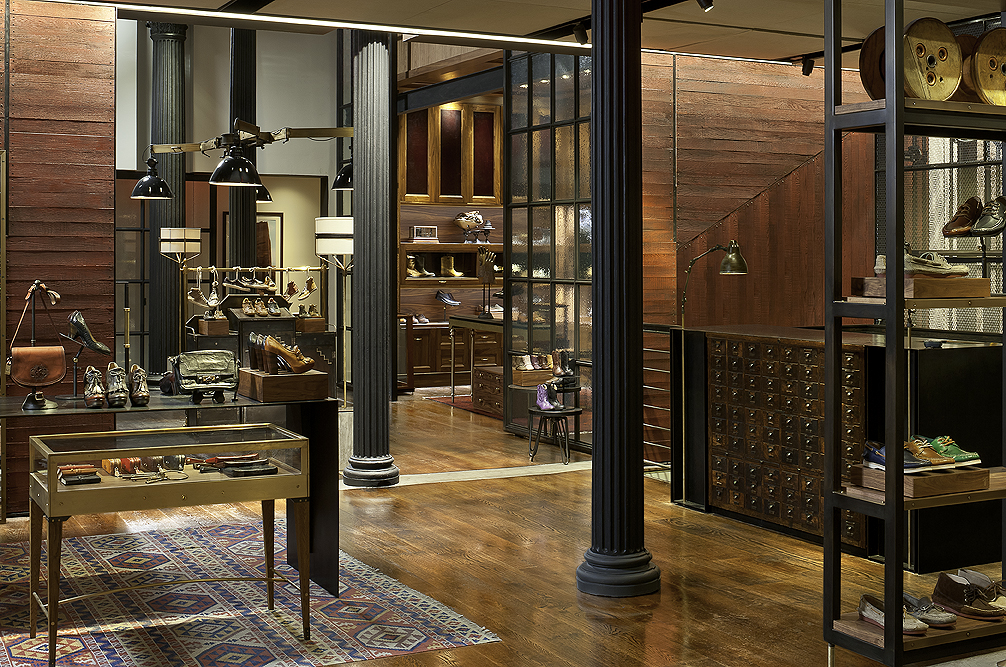 Your own living room is unlikely to ever see this level of foot traffic, but I point it out as an example of what you might want to go with if you really don't want to see any dings or dents on your wood floor. For those uncomfortable with any wear, a hardwood like Oak is a great choice.
Have questions or need more advice in choosing a floor? Our flooring specialists can help. Browse our wide plank floors.
Call us toll-free at 1-800-353-3331 or email us today.