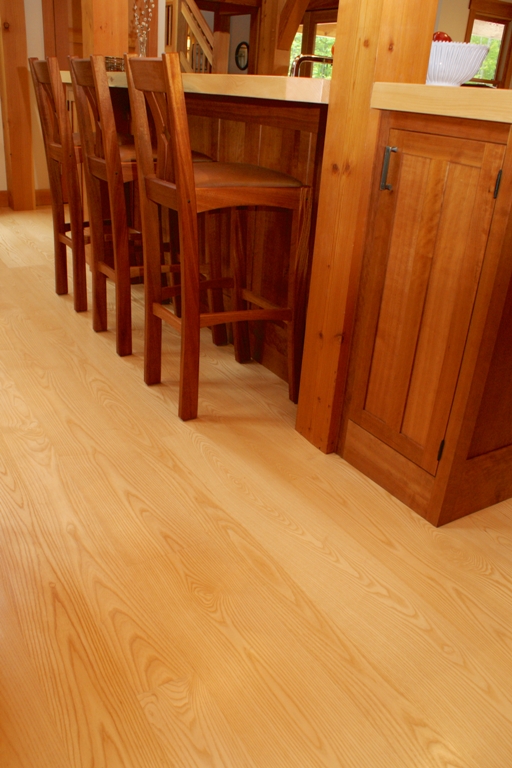 The owners of this New Hampshire timber frame home wanted a neutral tone wood floor and they came to Hull Forest Products for select grade sapwood-only Ash wood flooring, which they chose for its hardness, beauty, and–most importantly–its neutral "blonde" color. They did not want their flooring to compete or clash with the warm color of their Cherry cabinetry and Douglas Fir trim. To preserve the pale color of the Ash floor, they finished the floor with Arboritec 20, a clear water-based satin poly finish. A water-based poly provides a clear coat that will not amber with age, so it is a good choice for those interested in pale colored wood floors.
"We chose this product primarily because it is the clearest poly finish available," said the homeowners. "We did not want to use an oil-based poly because we thought the yellow discoloration that an oil-based polyurethane finish acquires with age would obscure the blonde wood color and clash with the reds in the frame, trim, and cabinetry." And they have been very pleased with the results. The finish, which was put down in four coats, has proven to be very durable.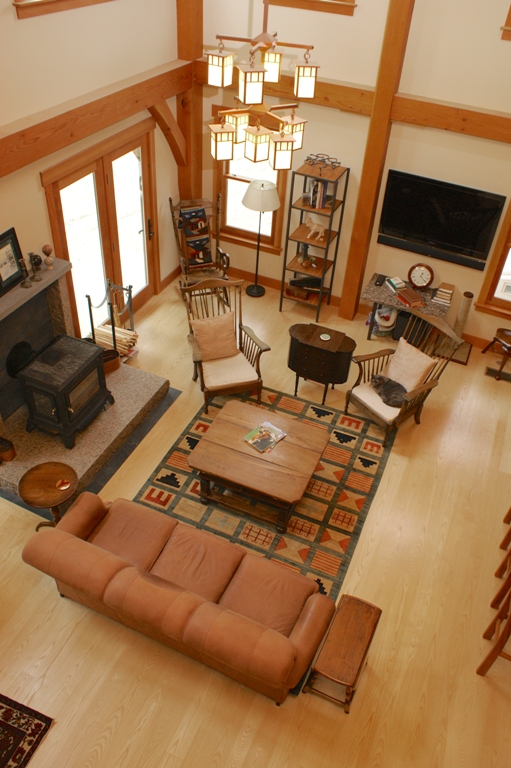 The husband and wife team behind this home first drafted a design for their dream timber frame, and brought it to Bonin Architects, who turned the idea into a beautiful home plan. Next they called on Timberpeg to cut their home's frame from Douglas Fir, and on builder Old Hampshire Designs to put up the frame and shell and make it weather tight.
The couple joined forces to act as general contractors for their home, and also did much of the subcontracting (including the interior framing, electrical, and plumbing) while simultaneously holding down full-time jobs. Though challenged to find the time necessary to complete their home, the result was a labor of love and a beautiful modern interpretation of an Arts & Crafts home.
You can view more photos of this home in the Hull Forest Products Ash Flooring Gallery and you can check out the photos at our profile on Houzz.com.
Have questions about our wood floors? Contact us 1-800-928-9602.