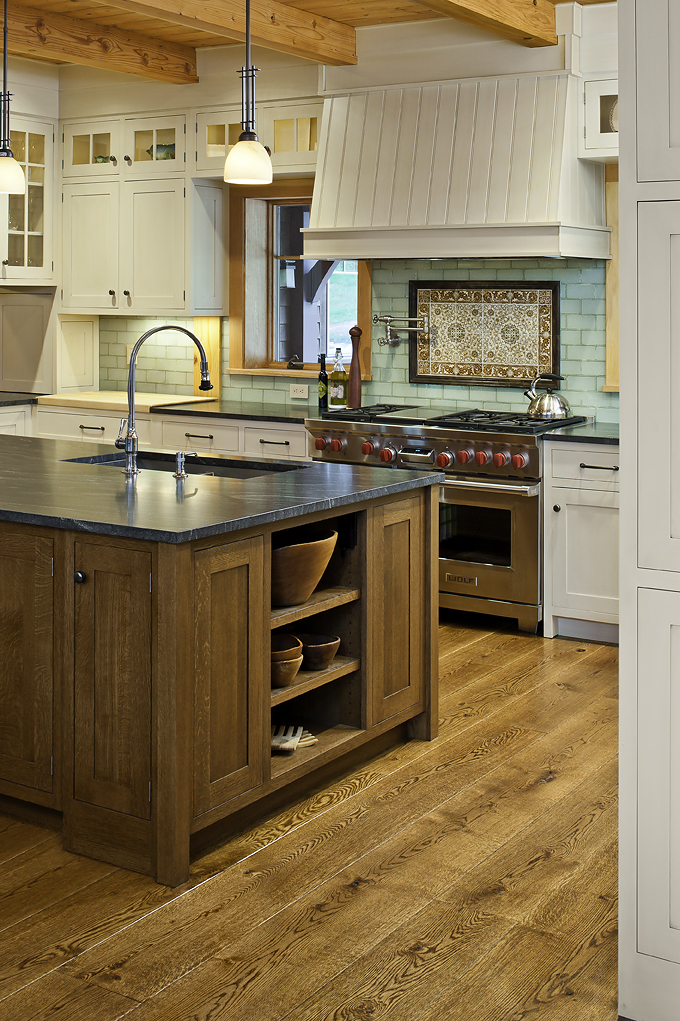 Top Ten Benefits of Wood Floors – And Why You Should Choose Them
1. Wood is the most abundant renewable flooring material available.
Trees create wood by harnessing solar power. Trees are a renewable resource and sustainable forest management makes it possible to harvest wood over and over again without any negative impact on the environment. Average annual net growth for hardwoods is greater than average annual removals, and hardwood growing stock in the United States has increased by 119 percent since the 1950s. Wood is a natural, renewable, sustainable, and environmentally-preferred building resource. (Sources: U.S. Dept. of Agriculture Forest Service; Woodisgreen.com; National Wood Flooring Association: woodfloors.org)
2. Wood floors improve indoor air quality.
Indoor air quality is better with real wood floors than with vinyl, carpet, or other flooring choices. Wood floors do not harbor animal dander, pollen, dust, and mold compared to other floor coverings. (Sources: U.S. Environmental Protection Agency, National Wood Flooring Association: woodfloors.org)
3. Wood floors are long lasting.
Wood floors last hundreds of years and don't need to be replaced as often as other flooring options. (National Association of Home Builders)
4. Houses with real wood floors sell faster than those without them.
In a national survey of realtors, 90 percent said houses with wood floors sell faster and for more money than those without them. (National Wood Flooring Association: woodfloors.org)
5. Wood floors save natural resources.
They use far less water and energy to produce than other flooring options. Every wood substitute requires far more energy to produce than wood. (University of Wisconsin Wood Products Program Life Cycle Analysis)
6. You can address climate change by using more wood, not less.
Wood is a carbon neutral material that produces oxygen during its growth cycle and stores carbon during its service life. The growth of wood in renewable forests works to sequester and remove carbon from the atmosphere. (Consortium for Research on Renewable Industrial Materials www.corrim.org)
7. Choosing wood floors protect forests.
The use of wood creates demand in the marketplace, giving people incentive to plant more trees and maintain forested areas. Want to protect forestland right here in the United States? Buy local/native wood products. You will help conserve the landscape you enjoy by giving local forest owners incentive to keep their tree farms. (shoplocalsaveland.com)
8. Wood outgreens bamboo.
Trees take longer to regenerate than bamboo, which is often touted as an environmentally friendly flooring because it is rapidly renewable; however, longer regeneration time is a benefit because forests with trees of different ages promote biodiversity. In contrast, bamboo is grown in monoculture plantations which do not make as large a contribution to wildlife habitat, air, water, or soil quality. (Idahoforests.org)
9. Wood earns LEED points.
Wood is recognized by the Leadership in Energy and Environmental Design program for improved indoor air quality, material use, location proximity, and sustainably sourced materials. (U.S. Green Building Council)
10. Natural materials enhance your home environment.
Your home should be a beautiful, healthy sanctuary. Wood is a beautiful, durable, healthy choice for both the world's environment and your home's environment. Bringing natural materials like wood into your home is also a great way to enhance your well-being and your indoor air quality. (Source: United States Consumer Product Safety Information)
We hope this information is helpful to you as a homeowner or builder/designer. We love hearing from you, so let us know if you need a catalog or complimentary wood samples. And don't hesitate to contact Hull Forest Products with your wood flooring questions. Call 1-800-928-9602 to speak with a flooring representative, or email us today.