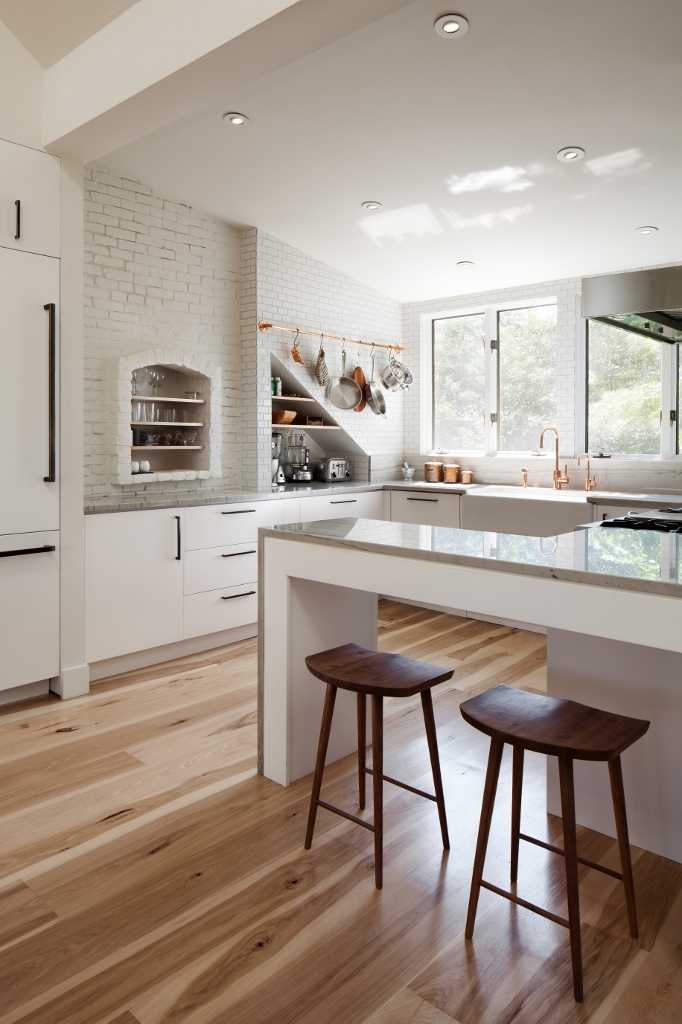 Hickory. Carya.
It's hard to imagine a wood floor that conjures up the image of the American frontier more than wide plank Hickory, which has a distinguished American pedigree. Hickory trees are found throughout eastern North America, and "Hickory" is one of the few extant Algonquin words. Along with moccasin, tomahawk, and hominy, the word pawcohiccora, from which hickory derives, was among those recorded by the explorer John Smith in Virginia circa 1608. This word survived because the wood and mast of the Hickory tree were extremely important to both the Powhatan and the early English settlers.
The Hickory nut was a significant Algonquin foodstuff; pounded and mixed with water, it made pawcohiccora, or hickory milk, a nutritious butter-like substance so prized that a quart of hickory milk was the barter equivalent of twenty pounds of pork.
Recognizing Hickory's strength, Native Americans used its wood for their bows. European settlers used Hickory to make wooden wheels, wagon axles, plows, and tool handles. Parents inflicting corporal punishment selected hickory switches because they did not break easily (ouch). Because of its high energy content, Hickory was also a favored fuelwood, used for firewood, charcoal production, and for smoking meats.
Hickory's toughness was so legendary in early America that the word hickory became synonymous with "strength": a hard-wearing twill cloth was known as "hickory cloth", and General Andrew Jackson was dubbed "Old Hickory" by his troops when he demonstrated his toughness on the battlefield.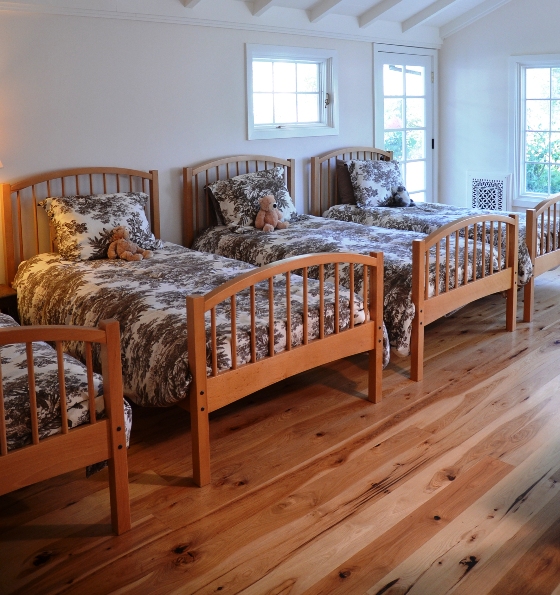 Hickory is the only wood with the quintuple attributes of toughness, stiffness, denseness, shock resistance, and hardness. Because of these attributes, Hickory's more modern uses have included flooring, furniture, tool handles, golf club shafts, ski bottoms, lacrosse sticks, ladder rungs, drumsticks, and other demanding applications.
Hickory floors are a perennial best seller at our sawmill; here at Hull Forest Products we utilize Hickory species native to the Northeast to make our wide plank Hickory flooring in grades from clear to character. Our Hickory floors are tough and impact resistant, and we recommend Hickory for kitchens and other high traffic areas. If you have little tolerance for dings and dents, a Hickory floor may be a good choice for you.
The striking color variation in Hickory can be played up with a clear finish (see figure 1 above) or the color difference can be minimized with a brown or darker colored stain (see figure 2 below).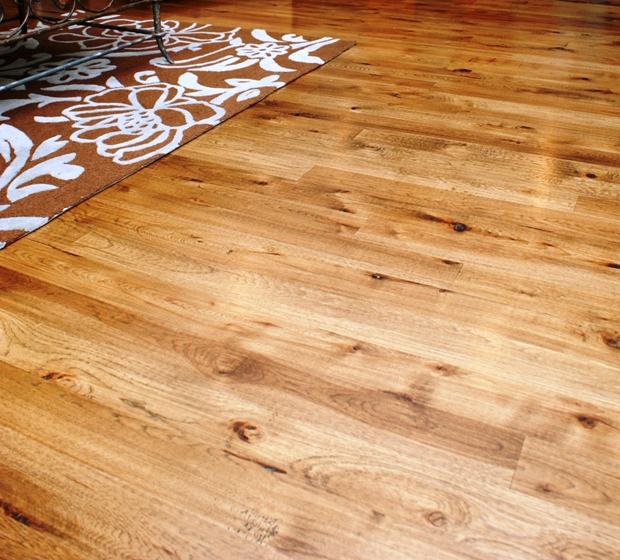 In Figure 2 the floor has been stained brown to make the color more consistent. This gives the floor a very different appearance from the floor in Figure 1, which shows the striated light and dark color variation typical of Hickory wood.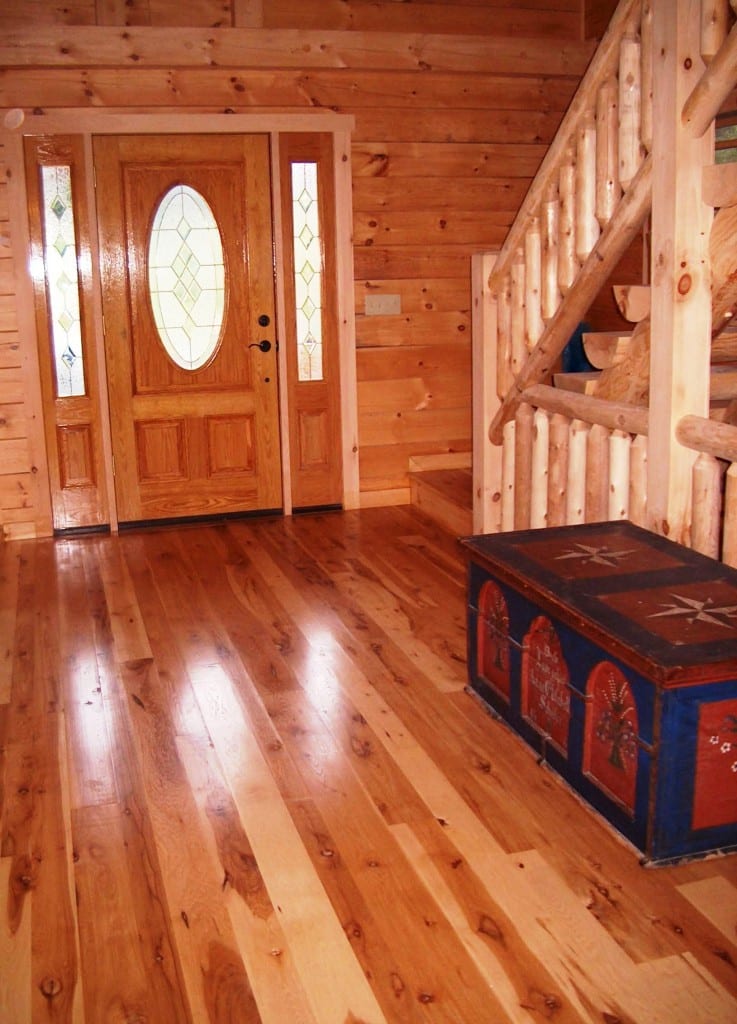 Many of our log and timber frame home customers choose Hickory because they appreciate the wood's color variation, and these customers also tend to prefer natural grade Hickory for its character markings (see figure 3), sometimes opting for a skip planed surface to add to the rusticity.
As you can see, Hickory wood floors look different depending on your choice of grade and stain/finish, and Hickory is a wood equally at home in a traditional or a modern setting. American Hickory wide plank flooring is at once a utilitarian and an attractive wood flooring choice.
To see more photos of wide plank Hickory floors as well as other species of hardwood floors, visit us online at hullforest.com.