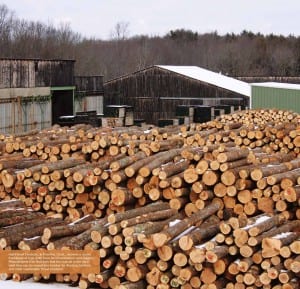 Here at Hull Forest Products, we're quite chipper about winning Farm Credit's 2013 photo contest, which highlights regional agriculture. Farm Credit is the nation's largest lender to cater exclusively to agricultural businesses and rural America.
Not everyone realizes the contribution that forestry and forest products make to southern New England's agricultural sector–more than $250 million annually in Connecticut alone. In addition, the forest products industry employs thousands of CT residents.
We like to remind folks that if they enjoy the local landscape, they can support that landscape by choosing locally grown forest products. Landowners who earn periodic income from the sale of timber on their woodland are much more likely to keep their land in forest instead of converting it to development, which is the largest threat to the region's forests.
This photo of our Pomfret, Connecticut logyard in winter, with logs waiting to be milled into lumber, flooring, and other sustainable wood products was selected from among the many entries Farm Credit received and will be their February 2013 calendar photo.