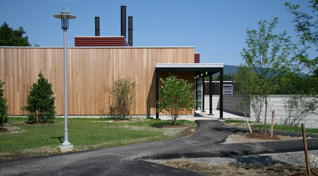 October 2014–
Hull Forest Products is participating in the second annual National Bioenergy Day event on October 22, 2014, to help show the public, elected officials, media, and other stakeholders how local companies are utilizing bioenergy.
Hull Forest Products supplies mill quality as well as whole tree wood chips to many New England institutions that utilize biomass heating, including Ponagansett Middle and High Schools in Rhode Island, Mt. Wachusett Community College and the Quabbin Reservoir Visitor Center in Massachusetts, and Bennington College in Vermont.
One ton of wood chips has the energy equivalent of approximately 60 gallons of heating oil, but unlike oil, wood chips are a renewable (and local) source of energy. Hull Forest Products's woodchips come from trees grown in family-owned working forests, and their use helps promote a healthy market for local wood, which in turn helps keep forests as forests in our region.
Please join us at 99 Canal Street, Putnam, CT from 3-7 pm on October 22, 2014 to learn more about the availability of woody biomass in southern New England and how this resource is being put to use locally. Bioenergy experts will be on hand, along with residential and commercial pellet boiler information, food vendors, and live music.